Khajuraho. A Gem of Indian Arts!
The Khajuraho Group of temples is amongst the greatest masterpieces of Indian art. Built between 950 CE and 1050 CE by the Chandela dynasty, this Indian heritage is famous for its nagara-style architecture, and erotic sculptures that are intricately carved on the temple walls. These wonderful artistic expressions portray life in its purest form.
The artworks of Khajuraho beautifully display human figures that are dancing, playing music, caressing a baby; women applying makeup or couples making love.
Khajuraho as a group of Hindu and Jain temples is one of the most important specimens of Indian art. Also, it's a UNESCO World Heritage Site.
There are farmers, potters, musicians, warriors, dancers, animals, floral prints, and even funeral scenes intricately carved on temple walls. But, the most astonishing sight is the carvings of erotic sculptures portraying lovemaking between men and women, group sex, and even sex-act between humans and animals on the temple walls.
Broad hipped, high breasted nymphs and apsaras interlocked in lovemaking or busy beautifying themselves are also shown.
Although only 10 percent of the entire Khajuraho carvings are erotic, they'll surely grab your attention the most and you'll wonder 'what did really lead to this creation?'
Why was Khajuraho built?
Almost all the kingdoms that rose in India left their footprints in the form of some extraordinary creations, like the famous Jaisalmer Fort by Rajput Rawal Jaisal.
(Read here more about Jaisalmer Fort)
The Chandelas as a powerful dynasty ruled here over 1000 years ago, and Khajuraho is their most vibrant cultural asset that shows their love and dedication for art and architecture.
But what was the reason for portraying love and lust so explicitly, and that too on temple walls, is perhaps the only question that strikes everyone's mind who visits Khajuraho.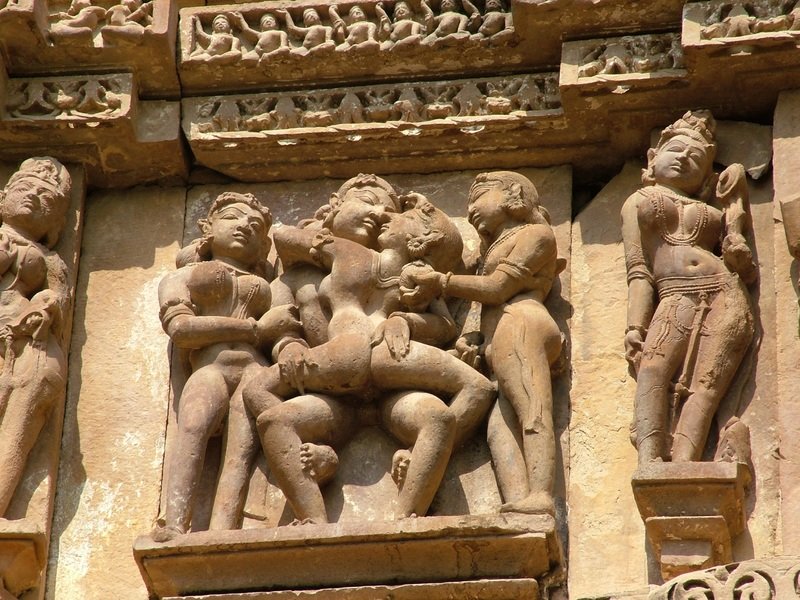 There are different speculations from stories to spiritual beliefs as to why the erotic carvings were made.
The most popular one is the story of a beautiful woman named Hemvathy.
Legend says, one evening, when she was bathing in a river, the Moon God (Chandra) was swooned by her beauty. Their union gave birth to a baby boy who later became the ruler of the Chandela dynasty and was known as Chandraverman. Hemvathy raised Chandravarman inside a forest, as she feared her son may have to face social harassment for being the son of an unwed mother.
After Hemvathy died, Chandravarman saw her in his dream where she asked him to construct a temple that would show human emotion, passion, and desire for love as a true nature of human lives. All so that, no one would be put on guilt for fulfilling their sexual desire.
However, the couples in love are only portrayed on the out walls of the shrine and no erotic carvings are made inside the temples. Some describe it as leaving your lust and desire behind before entering temples.
In a broader perspective, people define it as a depiction of Hindu Philosophy of Dharma, Artha, Kama, and Moksha; the Philosophy that acknowledges physical desire as an integral part of human-lives.
Khajuraho, perhaps, also tells you that you can attain Moksha only when you're done with worldly pleasure.
Whatsoever be the reason, Khajuraho is not less than any precious jewel in the list of Indian art and architectural achievements.
Historical data says that the actual temple site had 85 temples. Of these, only 22 temples have survived and are standing dignified till date. Among these surviving temples, the Kandariya Mahadeva temple is the center of attraction for the people coming to see Khajuraho.  It is the largest and most ornate of all with abundance of sculptures revealing the ancient Indian lives.
Khajuraho today
In recent time, Khajuraho falls in Chatarpur district of Madhya Pradesh, India. This huge set of Hindu and Jain temples took about 100 years to come in shape.
It wasn't possible for one king to complete this colossal set of monuments. Every ruler of Chandela dynasty contributed to build Khajuraho during his reign. However, most temples of this architectural enigma were built during the reign of king Dhangadeva and Yashovarman (descendants of Chandraverman).
It is believed that building temples was the tradition of Chandela rulers. Every king during his reign followed the same.
The entire Khajuraho site is divided into 3 zones: the Western, Eastern, and Southern. The western zone has majority of temples. Kandariya Mahadeva temple, Lakshmana temple, Chausat Yogini temple, Jagadambi temple, Chitragupta temple, Matangeshwara temple, Vishwanath temple, and Varaha temple come under the western group of temples.
The temples are made of sandstones and granite. All temples of Khajuraho are sun-facing; a very common practice in Hinduism. The temple art shows the co-dependence of male and female power.
The eastern part comprises Jain temples, and the southern group consists of only a few temples.
Some temples of Khajuraho were dedicated to Hindu gods and goddesses, namely Vishnu, Shiva, Ganesha, and Surya, and some were dedicated to Jain Tirthankaras.
In many aspects, people see Khajuraho as a symbolism of the union of Shiva and Shakti (also known as Parvati, Shiva's wife).