Floating Markets in Thailand show country's preserved culture and a must visit place in Asia
Floating markets in Thailand unfold an old tradition where multiple rivers and waterways are the primary means of transportation and local businesses between villages. Entering here might give you a feeling of entering a whole new world.
Slender canals are filled with beautifully decorated long-tail boats selling an abundance of local goods, traditional Thai foods getting prepared on the boats, and local vendors conversing in Thai give you a whole new shopping experience while floating on a boat.
There are many bustling floating markets near Bangkok, the capital city of Thailand.
Bangkok is packed with affordable and luxury shopping centers, street markets, and a great number of malls that flourish the capital city of Thai, but stepping outside the city to visit one of the many floating markets near Bangkok will truly give you an amazing experience to see authentic Thailand still practicing an ancient culture.
Historic Importance for growing floating markets in Thailand
Since ancient times, river-sides were the first places to witness the human population.
People started living at the fertile riversides in search of food, used waterways as a means of transport, and developed economic activities surrounding the river banks. 
No exception to that, Thai people traditionally started living at the river banks and used waterways as a means of transport. Boats were used for local and regional trades, and for bringing and selling goods.
This gradually increased the number of floating markets in Thailand and turned them into the busiest business hubs.
Today, these floating markets are one of the biggest tourist attractions in Bangkok, Thailand.
Bangkok, now, is among the world's most developed cities and equipped with all type of modern transports, but water canals are still a liked way of doing trades for locals and tourists.
A trip to Thailand is incomplete without visiting one of the popular floating markets near Bangkok.
On the outskirts of the city, there are dozens of floating markets you can visit depending upon whether you are ready to travel far from the city or want to choose a near one.
3 popular and unique floating markets near Bangkok, Thailand
Damnoen Saduak Floating market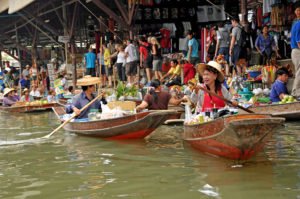 The largest and among the oldest floating markets near Bangkok, Damnoen Saduak was established in 1866.
About a 100 kilometer away from central Bangkok, the market is located in the Ratchaburi Province. Damnoen Saduak is Thailand's best-known floating market and also the touristy one.
The place is mostly crowded with sellers and buyers rowing small boats, selling and buying a wide range of local goods. The market is large and full of life.
Every glance in Damnoen is picture-perfect!
Tropical fruits, local goods, clothing, souvenirs, and delicious Thai delicacies like grilled coconut-rice, hotcakes, and boat noodles from the seller's boat to yours are the main attractions of visiting Damnoen.
Traveling here gives you an insight into the bygone way of life.
Amphawa floating market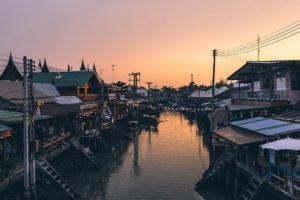 About 90 kilometers away from the city, this is the second most prominent floating market of Bangkok. The market is located in the Amphawa District of Samut Songkhram Province.
50 kilometers long, Amphawa floating market is the most loved one among the local Thais and tourists coming to Bangkok.
Here you find a large number of Thai visitors who come to dine on rich seafood and shop at the weekends.
It is not as crowded and large as Damnoen Saduak but more authentic and traditional. It is the most attractive of all floating markets, but not yet on every tourist map.
This market is famous for its fresh and scrumptious seafood and wooden boats crammed with everything from Shellfish to Squid.
Amphawa is structured with old and charming little wooden shops neatly lined up along the canal, selling a variety of sweets and snacks, local T-Shirts, watercolor paintings, local souvenirs, and toys.
Here you will not buy things sitting on boats. In Amphawa, you can get out of the boat and walk through the market.                               
Food stalls have grown from the river banks and stretched up to the surrounding streets.
'Fresh river prawns and grilled fish on the river banks' –Amphawa doesn't disappoint any foodie!
Visitors flock to each side of the river all day long.
If you're in Amphawa, choose to take one of the many long-tail boats and explore the surrounding canals and the river Mae Khlong, around which the entire floating market has been developed.
On the other side of the Mae Khlong, Amphawa hides an iconic Buddhist temple emerging from within a banyan tree and a golden Buddha sitting inside it.
Wat Bang Kung
Wat Bang Kung, the temple is entangled in the roots of an immense banyan tree, and its large branches have swallowed the temple over the course of several centuries. Only the door and windows are free from the roots. Devotees are continuously walking in and out to pay respect to the Buddha sitting inside.
Flawless natural beauty with serene spirituality; the temple alone is worth a trip to Amphawa.
Bang Nam Phueng Floating Market
Less commercialized with fewer crowds, Bang Nam Phueng is only a few kilometers (Approx 21 km) away from the main city, located in Phra Pradaeng district.
Instead of crowded canals with a flood of long-tail boats and a large number of tourists, this is a smoothly-running local market with few riverboats provide you fine foods, sweet treat, and exotic Thai fruits like Fak-Khao (a spiky orange that belongs to the pumpkin family).
You can relax sitting here under a thatched roof near the river bank and relish the cozy ambiance of Bang Nam Phueng.
Along with the Thai cuisine, you can try a soothing Thai massage, buy some hand-made health products, and try your singing at a nearby Karaoke Bar.
Despite being so close to the main city, the place is still covered with lush green vegetation and has plenty of charm.
Today, Bangkok is among the world's greatest cities, known for its fast-paced life, high-rising skyscrapers, and one of the fastest-growing business hubs. Despite all, the city is adorably nurturing its old and charming village life and native practices.
Images: Wikimedia Commons
Also Read:A culture trip to Mandalay, the Royal Town of Myanmar
You may also like: Bali, a lush tropical paradise in the heart of Indonesia