Shah-i-Zinda in Central Asia. A jewel of Islamic Art from the medieval era
Samarkand in Uzbekistan, a city that's famous for its elegantly designed mosques and mausolea and also possesses historical importance because of its location on the Silk Road (the ancient trade route that linked China to the Mediterranean), preserves a jewel of Islamic Art 'Shah-i-Zinda' from the medieval era.
Shah-i-Zinda, an avenue of mosques and mausolea, is a series of grand palatial tombs in the north-eastern part of Samarkand, which portrays the unparalleled beauty of Islamic Art and Architectural creation.
Shah-i-Zinda was formed over eight centuries. It was founded with a single tomb over 1000 years ago, and several mosques and mausoleums were added to it throughout the ensuing centuries between 11th to 19th Centuries. And therefore, it shows various captivating architectural styles, methods, and artistry from throughout a millennium of work.
With rows of well-crafted blue tombs and rich tilework in it, Shah-i-Zinda folds up a story from history for its creation.
History
According to legends, the first tomb that was built here was of Kusam ibn Abbas, cousin of Prophet Muhammad (the founder of Islam). Kusam ibn Abbas brought Islam in Uzbekistan in the 7th Century.
He reached here to preach Islam among people. Zoroastrian Sogdiana (an ancient Iranian civilization who had territory here) was unhappy with this. It is said that a group of Zoroastrian fire-worshippers beheaded Kusam ibn Abbas when he was at prayer.
It's also said that he didn't die. He took his head and went into a deep well where he's still living. And that's how the name 'Shah-i-Zinda' came (meaning 'the living king').
Like most legends, this story has also been preserved through time among believers.
Over the centuries, many more mausolea of people from dynasties that reigned in central Asia (like the Timurid Empire from 1350-1507), and many religious houses (mosques) were built inside the premise of  the Shah-i-Zinda necropolis; no mausoleum copied another, yet they stood in harmony.
Adding continual artistic brilliance to the pre-existing structure had led to an engrossing multi-tiered design where layers of history, art, and architecture are interwoven between staircases, archways, and avenues.
One century intersects with another at mere footsteps at Shah-i-Zinda.
Artwork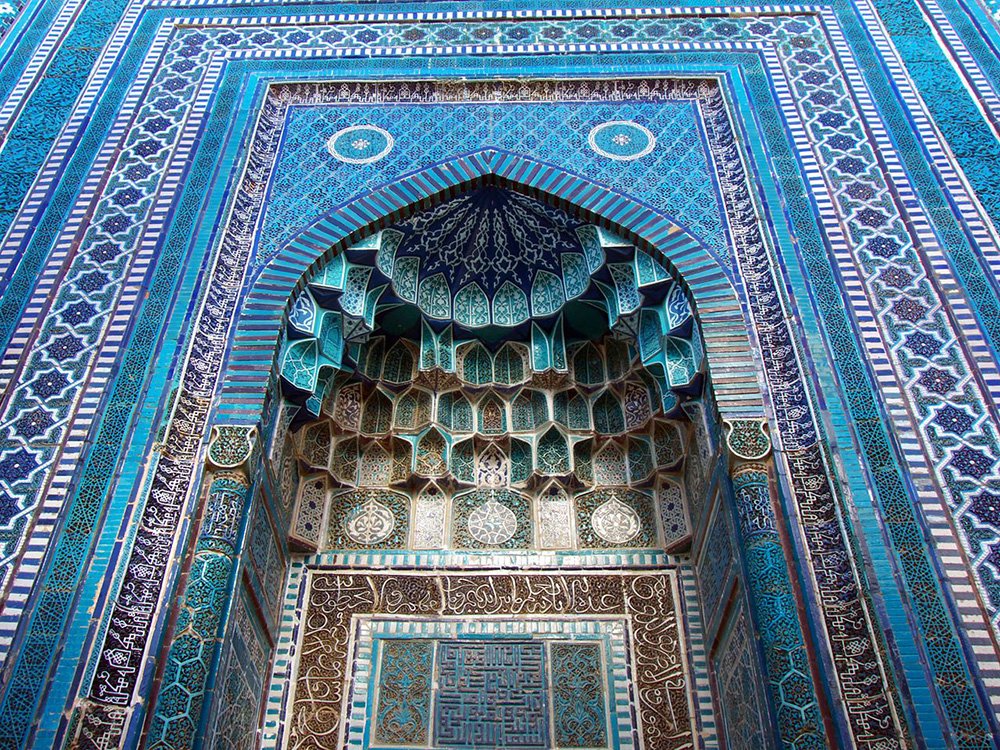 Shah-i-Zinda Necropolis is one of the wealthiest artworks of the Islamic artistic world. With exquisite majolica and terracotta works of fine quality, some of the world's best tilework is found here. They were of such rare quality that it needed almost no restoration for more than seven centuries. Even after they endured centuries of war, weather, and expansion, they survived with very little touch-up work.
The bright sapphire blue tombs, with intricately carved blue-grey tilework, make the streets of deads perhaps the most visually stunning sight in the city of  Samarkand.
But some parts of it were re-established recently in 2005 where you miss the original majolica and terracotta works.
More
When Mongols invaded central Asia and many grand cities were laid in ruins, Shah-i-Zinda remained untouched by them. They changed the surroundings but left Kusam's grave alone.
Shah-i-Zinda remains one of the oldest and longest-running examples of a continually constructed site in the world's history.
Featured Image: flickr