7 must-see historical places in Asia
Asia, the land of civilizations, invites history-lovers with incredibly rich ancient-architectures, monuments, palaces, ruins of centuries-old dynasties, and battle-scarred heritages. Asia brims with countless such historical landmarks that are a must-see for you if stepping on old-sandstones and walking through the ancient walls and corridors make you go crazy!
Click here to know more about Asia
Here are 7 must-see historical places in Asia! For the history-enthusiasts!
Angkor Wat in Siem Reap, Cambodia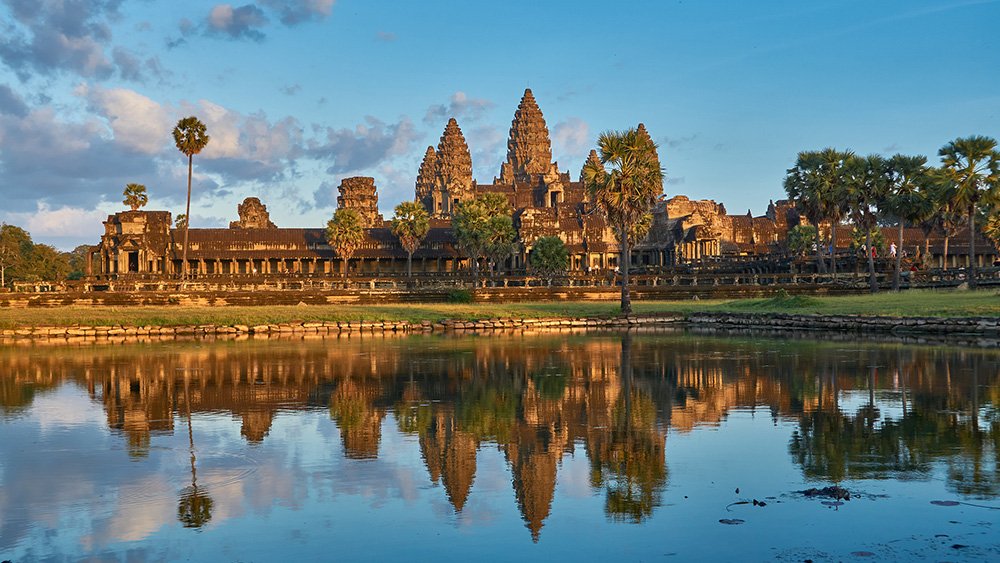 Located deep in the forest of Cambodia, Angkor Wat is one of the most spectacular historical sites from Southeast Asia.  
As a replica of Mount Meru (home of the Gods in Hindu Mythology), Angkor was built by Suryavarman II (one of Khmer's greatest kings in the early 12th century). Angkor Wat is the ultimate expression of the Khmer Empire that flourished here between 802-1431.
Stretching over an area of more than 400 square kilometers, Angkor is gigantic. Its hundreds of temples and monuments were constructed with approx. 10 million sandstone blocks, each with 1.5 tons. The site contains more stones than the Egyptian pyramids.
Angkor's grand walls and endless corridors are decorated richly with carvings and sculptures. The carvings depict the historical events and stories from mythology.
More than 3000 Apsara (heavenly nymphs that represent female beauty), Kala (faces without lower jaws that guard the place against evil), and Naga (the multi-headed mythical serpent) are carved intricately into the walls of Angkor.
In its nine hundred years of ancient remains, the footprints of an extraordinary ancient culture are revealed. Angkor gives evidence to the existence of a highly developed civilization of that time.
One of the must-see historical places in Asia!
Click here to get the full-story of Angkor Wat
The ancient city of Petra in Jordan
Set in a dominating red sandstone landscape, elaborate with hand-hewn caves, palaces, temples, and tombs in the high desert of Jordan, Petra is one of the world's largest archaeological sites located in Western Asia.
Also known as the 'Rose City'!
Carved into rocks and enclosed by mountains riddled with passages and gorges, Petra is the iconic 2000-years-old city that once was the capital city of Nabataeans (the ancient Arabian people who settled here and flourished reputedly since 312 BCE).
The city reveals the story of a lost civilization.
Ancient Eastern tradition blends with Hellenistic architecture here in Petra.
You'll see perfect blends of Nabataeans and Greco-Roman architectural styles in the city's tombs and other monuments that were once looted by thieves in search of treasures.
There are baffling tombs and temples, religious high places, remnant channels, tunnels, and diversion dams integrated with a vast network of cisterns and reservoirs that once would control and conserve seasonal rains. And the ample other archaeological remains will give you a glimpse of a highly equipped human settlement of that time.
If you're lucky to visit them on a rainy day, you might see some of the water channels and dams are functioning till date.
One of the must-see historical places in Asia!
Click here to get the full-story of Petra. 
Paro Taktsang in Paro, Bhutan (also famous as Tiger's Nest)
Sitting precariously 10,000 feet above sea level, the small cliffside monastery 'Paro Taktsang' is a must-visit historic site from South Asia.
Located in the upper Paro valley in Bhutan (an Eastern Himalayan country), Paro Taktsang is a Buddhist sacred site where an eighth-century Buddhist monk 'Padmasambhava' had meditated for years and introduced Buddhism in Bhutan. Legend says, Padmasambhava reached here on a flying tiger and meditated inside the cave for several years.
Hangs far up on a cliff overlooking the Paro valley, the travel to Paro Taktsang is difficult and challenging, but it's going be thrilling if you love trekking. As you climb the steep trails of mountains, the monastery seems to appear and disappear in and out of trees and mists. After hours of a long and slow walk when you reach and step into the monastery, it was all worth it!
Sitting at such a high altitude, Paro Taktsang is an iconic historical temple complex that attracts history-lovers across the world.
One of the must-see historical places in Asia!
Click here to know about Buddha: An Asian sage who inspired Buddhism
Taj Mahal in India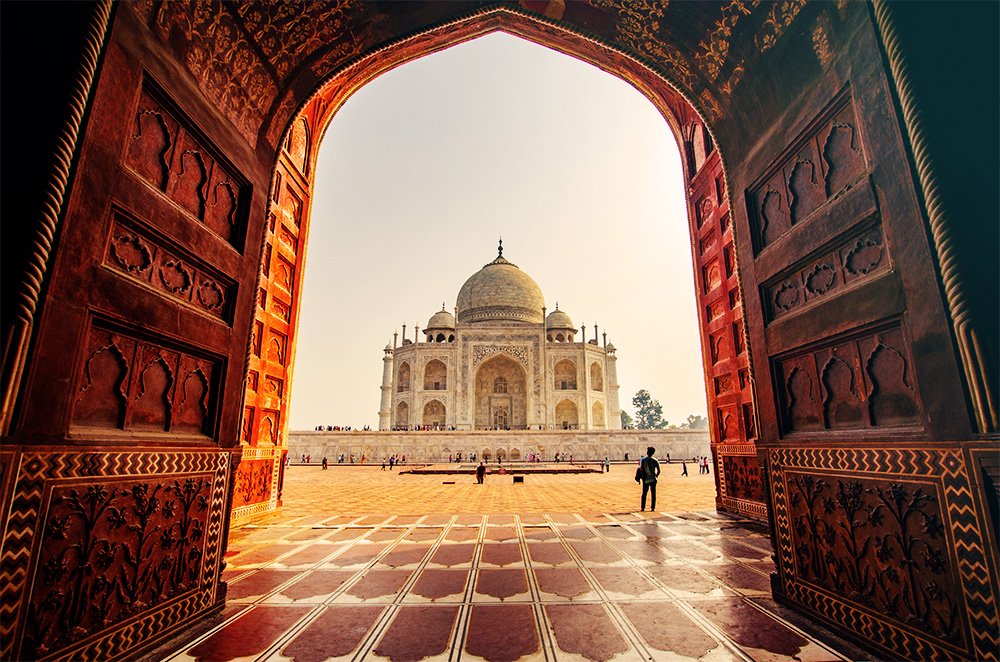 At the bank of the river Yamuna in the Indian city of Agra, Taj Mahal is a historic monument of love from South Asia. A colossal tomb, crafted in soft and pure marbles and adorned with precious stones, Taj Mahal is a spectacular architectural monolith from Mughal Era (between 16th to 19th Century). A must-visit for history enthusiasts!
With a fusion of Persian and Mughal architecture, Taj is a gem of Islamic art in India and one of the universally admired masterpieces of the world's heritage.
The Mughal emperor Shah Jahan, after his beloved wife's death, built Taj to house the tomb of his queen. History says, with more than 20000 workers, 1000 elephant, and 32 million rupees (of that time), it took 22 years to complete Taj Mahal the way people see it today.
In a huge 42 acres land, this royal mausoleum dazzles like a flawlessly carved diamond.
One of the must-see historical places in Asia!
Click here to get the full-story of Taj Mahal: the paradigm of love
Ayutthaya Historical Park in Thailand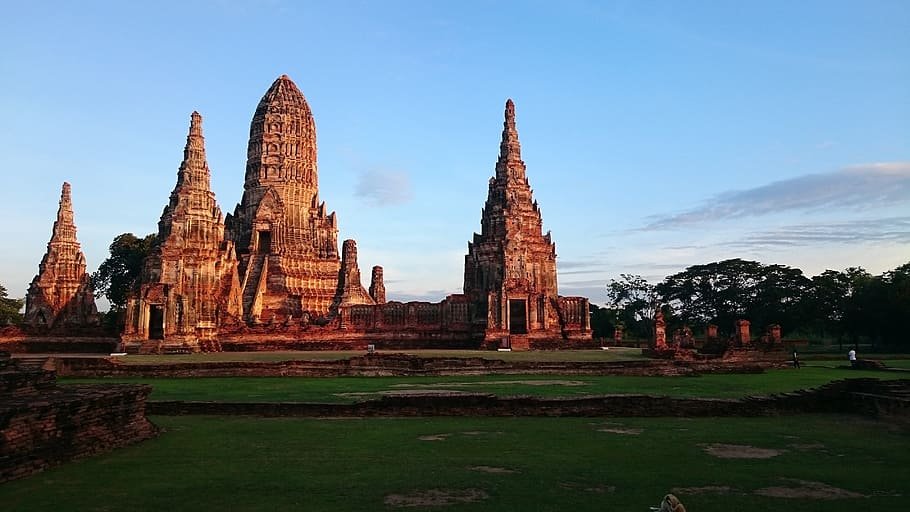 Ayutthaya, once the most thriving trading center of Asia, was the capital of Siam between 1351 and 1767.
King U Thong built the city in 1350. And soon, it grew with several palaces, monasteries, and royal temples. Merchants from across Asia started coming to Ayutthaya, and Ayutthaya became one of the most flourishing trading centers in Asia. The city became one of the largest cities in the world with 1 million residents by 1700. But everything ruined when the Burmese army tried to invade Ayutthaya and burned down most parts of the city. 
Now, the city mostly stand in ruins with scattered temple ruins and pagodas. However, some of the properties were restored. Today, when you visit Ayutthaya, you wander through the lines of headless Buddha statues, leaning temple steeples, and step over the ancient rocks. If you can listen to their silence, Ayutthaya reveals the story of pride, prosper, and pain. Ayutthaya suffered centuries of disrepair and abandonment until in the 1960s the Fine Arts Dept. started restoring the ruins of Ayutthaya and a large part of it was named the Ayutthaya Historical Park in 1976.
Today, tucked away in the north of Bangkok, it's a rich cultural heritage of  modern Thailand and also a UNESCO World Heritage Site. 
One of the must-see historical places in Asia!
Borobudur in Central Java, Indonesia
Built-in the 9th Century, during the reign of the Shailendra dynasty, the splendid Borobudur is the world's biggest Buddhist monument. 
Sitting on the island of Java amid lush greenery, it's a picture-perfect sight with expansive mountains on one side and Mt. Merapi volcano on the other. 
Extending over a vast area, Borobudur reflects the Indian Gupta and Post-Gupta art. The walls are decorated beautifully with 1400 narrative panels carved into stones, and also there're huge stupas (the bell-shaped structure) that contain Buddha statues. 
This magnificent monument, buried under volcanic ash, suffered centuries of neglect until it was rediscovered again in 1815. In the 1970s, the Indonesian government and UNESCO worked together for eight years to restore the place. Today, Borobudur is a gem of Indonesia's historic treasures.  
One of the must-see historical places in Asia!
The ancient temples of Bagan in Myanmar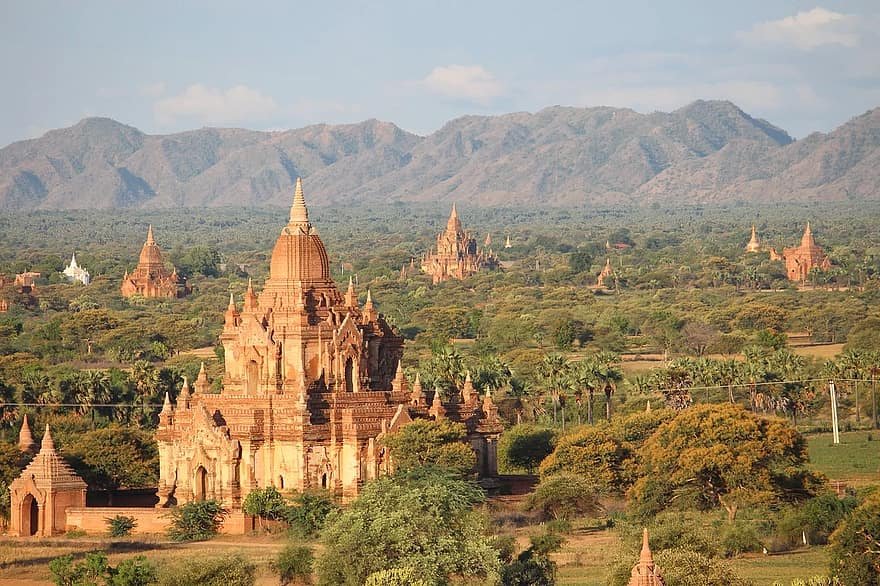 Your trip to Asia will be incomplete without visiting the temples of ancient city Bagan in Myanmar. Sitting on the bank of the river Irrawaddy, thousands of ornate temples and pagodas reveal a rich cultural history of the country. It was the capital of the Pagan kingdom between the 9th to 13th centuries. During this period, the wealthy emperors of Pagan constructed over 10000 Buddhist temples, pagodas, and monasteries. Of which, 2200 temples are remaining at Bagan (Present name of Pagan kingdom).
Bagan was once a prosperous city grew extensively in size and grandeur. However, its golden age ended when in the 1287 Mongols invaded and sacked the Pagan kingdom. 
Like many other historical sites, the temples of Bagan also suffered disrepair and neglect. As many couldn't survive the test of time, others were damaged by earthquakes. 
However, with a few hundred temples, Bagan still looks majestic, especially when at sunrise and sunset, red and orange hues engulf the place. 
A must-see historical place in Asia!
Click here to explore more awesome places from Myanmar