Udaipur Lantern Festival. An eco-friendly way of celebrating Diwali night!
Once the capital of the great Mewar Kingdom, the regal city Udaipur, today, holds on to a charming modern town vibe. Nestled between glass-like lakes and the ancient Aravalli Hills, the picturesque, classic Udaipur looks gorgeous throughout the year. But the beauty of the city multiplies 10x during Diwali when the complete city with its magnificent royal structures is lit up with shining lights and festive vibes all around.
Most parts of India when struggle with rising pollution due to cracker-burning during Diwali, Udaipur has a unique and eco-friendly way to celebrate its Diwali night.
Udaipur Lantern Festival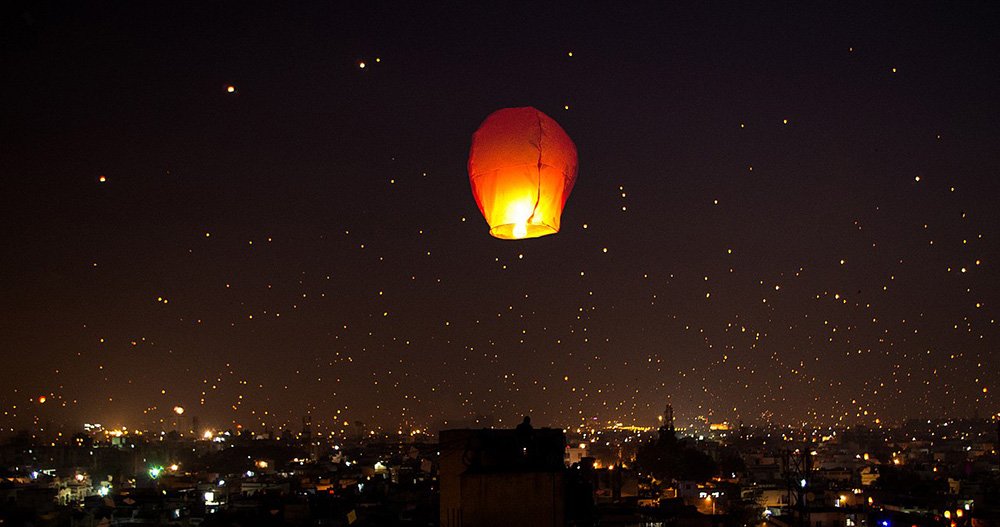 It's a treat to your senses when thousands of glowing lanterns sail together in the starry night skies and the skies turn golden.
Every year, on this magical evening, tourists and travelers from across India reach Udaipur to witness this stunning heavenly view.
As the sun goes down, the magical evening begins! With many fun-filled activities, dance, music, live stage shows by celebrity bands, and authentic Rajasthani cuisines, this evening is perfectly planned to amuse you and make sure that no moment of your Diwali goes uncelebrated.
If you're a fan of Rajasthani clothes and accessories, art and craft, food, and souvenirs – explore through the sprawling market near you that's exclusively part of this event and is majestically adorned just for you!
Started in 2012, the Udaipur Lantern Festival is a glorious way of celebrating the festival of lights 'Deepavali'.

Lighting up lantern
Post 10:00 pm, after having a joyful evening together, the enthusiasts light up thousands of lanterns and release them into the night sky, perhaps, spreading a message to the world for a green and safe Diwali.
What started with a small initiative to unite people on a special day to celebrate Diwali in an environment-friendly way, the Lantern Festival of Udaipur is now gaining attention of many and becoming a little bigger every season.
It's also popular as Udaipur Light Festival (ULF).
Also read: Sky Lantern Festival in Taiwan
More attraction for the evening
Food stalls serving a wide variety of local and international cuisines, Sufi, Instrumental, Classical, Pop- all types of music shows at one place, and a high-spirited crowd celebrating a cracker-free Diwali without compromising on the joy of the festivity.
Disclaimer:
In 2020, due to the pandemic, all events, dates for its celebration, and the way of celebrations have been changed across the nation. Udaipur Lantern Festival may not be same this year. Please confirm with the event organizers.