Egyptian Market or Spice Bazaar. A must-see in Istanbul!
Egyptian Market or Spice Bazaar (Mısır Çarşısı) is one amongst Istanbul's top-drawer attractions.
Turkey's largest and culturally vibrant city Istanbul that once was the capital of powerful dynasties like the Byzantine and Ottoman Empire, with much historical importance, is home to many must-see places and several UNESCO World Heritage Sites. With millions of foreign visitors every year, the city's among the world's top 10 tourist destinations.
Along with many such beautiful places, people who travel to Istanbul make sure they don't miss out on a sight to Istanbul's famous Egyptian market or Spice Bazaar.
Why is it called Egyptian Market?
Built in 1664, Spice Bazaar was and still is the center for spice trade in Istanbul. Earlier, it was known as the 'New Bazaar' or 'Valide Bazaar'. As most goods and spices selling in the market were coming from Egypt, by the mid 18th Century, it became popular as 'Egyptian market'. Also, the market building was initially raised by taxes levied on those Egyptian goods.
The Spice Bazaar in Istanbul once was the last stop for camel caravans that travelled along the Silk Road from China, India, and Persia.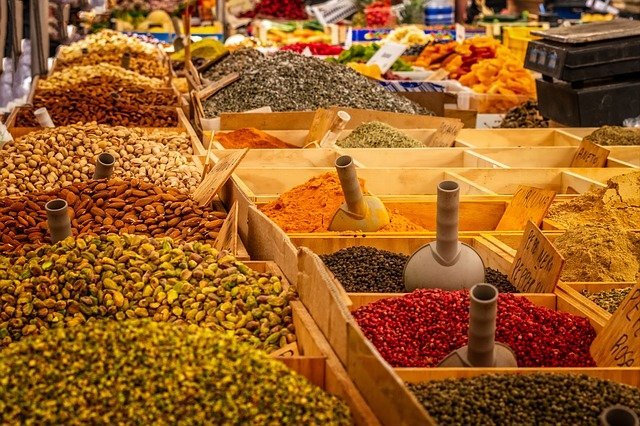 What would you see in Egyptian Market or Spice Bazaar?
Filled with fragrance of the exotic East, the Spice Bazaar of Istanbul is located in Eminönü quarter of Faith district. Near to the Yeni Mosque, it's a large L-shaped market that you enter through a high brick archway. As soon as you enter to it, you're caught up in an overwhelming scent coming from hundreds of spices on sale. Heaped into vibrant domes, here, you find every spice that you once heard of.
The market originally sold spices and herbs. But over the years, it has started selling other edibles like nuts (kuruyemiş), honeycomb (petekbal), Turkish delight (lokum), dried fruit and vegetables (kuru meyve ve sebze), Turkish cheese (eski kaşar), caviar, and smoked or dried beef (pastırma).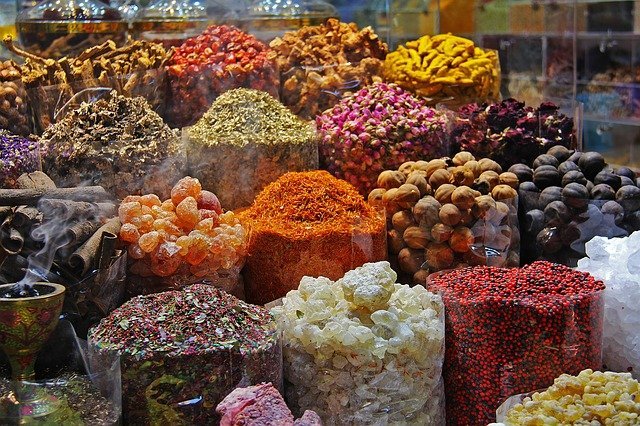 Also, there are shops selling a large variety of organic tea to soothe your health and mood. Chamomile, Lavender, Jasmine, Orange, Hibiscus, Cholesterol, Rose, Relax, and Love tea; pick up any based on your taste and preference.
Rose Tea
Inside the market, there are 100 year old coffee shops serving authentic Turkish coffee.  Turkish coffee is world famous and you certainly won't want to miss it if you ever heard of it.
Read here to know how 'the memory of a cup of Turkish coffee lasts for forty years!'
In recent times, fancy clothes, scarves, jewelry, crockery have started to move in to the Spice Bazaar to attract tourists.
You need no entry fee to Spice Bazaar and can stroll through it 7 days a week. Shopkeepers are friendly and ask you to taste everything for free before you buy.